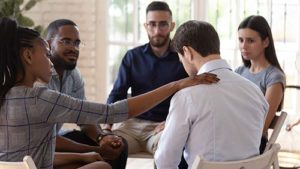 Over time, addiction can cause issues in an individual's relationships, finances, and even employment status. This is in addition to the physical and mental toll addiction can take. One way that Ethan Crossing of Columbus helps our clients heal is through a group therapy program. This approach to addiction recovery complements individual and family therapy sessions and is a foundational part of our addiction treatment programs.
Group therapy sessions involve several individuals in recovery as well as an experienced therapist. During these sessions, you'll find support and perspective that can help you on your journey to recovery. Learn more about our addiction therapy programs by contacting Ethan Crossing of Columbus at 855.476.0078 today.
Why We Offer Group Therapy
Group therapy is a type of talk therapy in which several individuals who are struggling with similar issues come together to discuss their experiences and develop healthy coping skills. During individual therapy sessions, clients work one-on-one with their therapist to work through personal issues like mental health conditions or past trauma. Group therapy allows clients to spend more time in counseling sessions than would be possible and individual counseling alone.
In group counseling sessions, you'll find a safe and supportive environment where you can discuss your experiences in the past and your hopes for the future. You'll build a strong network of support with your peers in recovery. This can be invaluable as you work towards long-term, sustainable recovery.
Benefits of Group Therapy
We offer group therapy because it gives our clients an opportunity to build their communication skills and learn from others. In addition, group therapy helps clients:
Interact with others in recovery on a consistent basis
Discover how others with substance use disorders cope with drug and alcohol cravings and avoid relapse
Realize that they do not have to do everything alone
Share information about their own experiences to boost their confidence and encourage others on their road to recovery
Find the freedom to release feelings of guilt, stress, and pain in an understanding atmosphere
Group therapy can also be used in conjunction with a depression treatment program or an anxiety treatment program. The goal of our treatment programs is to give clients the tools they need to make lifelong changes. Those who struggle with mental health issues can develop healthy coping skills to avoid relapsing in the future.
What to Expect During Group Therapy Sessions
Typically, the group you are in will consist of four to 12 individuals who are at similar stages of recovery as well as a therapist. Sessions typically last for one to two hours. The topic for each session will be set by your therapist, although they might open up the discussion to allow group members to share their experiences. Other things you might focus on in group therapy sessions include skills development, cycle educational groups, or mental health issues.
Those who don't feel comfortable sharing right away will never be forced to. However, you'll find that once you open up about your experiences with substance abuse that it feels like a burden has been lifted. Sharing your story with others can help them support you more effectively as you work to rebuild your life.
Contact Ethan Crossing of Columbus Today
Reach out to our team to find out more about how group counseling can play a role in your journey to recovery. At Ethan Crossing of Columbus, group therapy is part of all of our treatment programs, which include:
In addition, clients who need to go through detox can do so under medical supervision in our detox center. We ensure that our guests are safe during the withdrawal period and help them build a strong foundation for sustainable, lifelong recovery. Learn more by reaching out to Ethan Crossing of Columbus today at 855.476.0078 or by contacting us online.