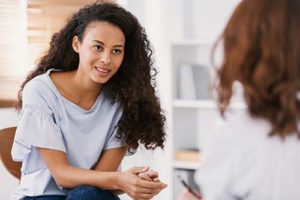 When women decide to end their addiction to drugs or alcohol, they deserve specialized treatment in a safe, supportive environment. At Ethan Crossing of Columbus, our women's residential treatment program offers a number of unique advantages over co-ed options. Our team helps women succeed in their recovery process by providing targeted therapies, consistent support, and a safe space for women to recover.
If you're ready to begin your journey to recovery, reach out to Ethan Crossing of Columbus at 855.476.0078 today.
Advantages of Our Women's Rehab Programs
There are fundamental differences between men and women when it comes to recovery. For some people, specialized substance abuse treatment for men and women can be the most effective. In our single-gender program, you'll experience a variety of benefits.
A Supportive Environment Where You Can Heal
One of the adverse effects of addiction is isolation from friends and family. Some people trapped in addiction feel very alone, and this feeling perpetuates the downward spiral of addiction. However, in group therapy sessions, you'll meet other women who have been through similar experiences. Their encouragement and perspective can help you on your own recovery journey.
At Ethan Crossing of Columbus, you'll feel supported and encouraged whether you participate in a residential treatment program or outpatient care. Our team is committed to helping our guests make lasting changes in their lives by working through the underlying causes of addiction. We will also teach you healthy coping skills and strategies to maintain sobriety long after you leave our doors.
Trauma-Informed Therapies and Approaches to Care
Often, past trauma causes women to develop an addiction to drugs or alcohol later in life. At Ethan Crossing of Columbus, our team believes that addressing and healing past trauma is an integral aspect of addiction treatment. Our women-only groups allow women to feel comfortable opening up about issues like abuse or assault. Our team of therapists and addiction treatment specialists have decades of combined experience in helping our guests work through trauma. Individual therapy can also be a safe space to work through deeply personal issues.
Individualized Treatment
Addiction treatment should be individualized for each person in recovery. At Ethan Crossing of Columbus, we create individualized treatment plans for every individual in our care. Many of our guests struggle with both substance use disorders and mental health issues, and we use treatment plans as a guide to treating both. If you require detox capabilities, we offer medical support and counseling so that you can begin recovery with a strong foundation.
No matter where you are on your journey, Ethan Crossing of Columbus can help.
What to Expect at Ethan Crossing of Columbus
Our treatment programs are designed to help our guests develop the tools they need to maintain recovery.
We use a variety of approaches and therapies to help the women in our care heal. Our full continuum of care includes detox, residential treatment, outpatient care, and aftercare. This gives our guests the time and the support they need to understand how addiction has impacted their lives and how they can maintain sobriety long-term.
We also offer a number of therapies in our women's addiction treatment center, including:
Individual therapy – Work through personal issues one-on-one with an experienced therapist
Group therapy – Build a network of support with other women in recovery
Family therapy – Find new ways to navigate conflict and communicate more effectively
Anxiety and depression treatment – Learn to manage the symptoms of mental health issues without turning to drugs and alcohol
In our center, we also offer a range of amenities to promote healing. You can relax with amenities such as a fitness center, game room, lounge area, and comfortable treatment rooms.
Start Your Recovery at Ethan Crossing of Columbus
Ethan Crossing of Columbus provides caring, compassionate, and comprehensive women's rehab programs to meet your unique needs. In addition to our women's programs, we offer:
Reach out to us online or call us today at 855.476.0078 to learn about our recovery programs. We'll help you heal, grow, and rebuild your life.